Olá!
This is the second post in the Art BookStore Map series! After my (sadly too short!) trip to Lisbon, I wrote a little guide for you from the places I visited. I met some very cool people from the book and illustration community. It was a very inspiring experience and today I'm going to tell you a bit more about it.
Portugal is one of my favourite countries in Europe, and I've been considering moving to the area for a while – so I'm even more excited to see how interesting the art book market looks there
Hopefully our map will get denser and denser, and I'm happy to keep it updated. If you know of a super place that you think should appear on this list – please write to us!
At the end of the post you will find a Google map to make it easier to go from zine to zine.
1. Stolen Books
Av. dos Estados Unidos da América 105
It's not easy to get to Stolen Books – like real thieves, they hide well. Google Maps will show you the location on a map, but that's not enough. You have to go down opposite the bus stop, turn left and push open the big grey garage door. Inside you'll find a publishing house and graphic design studio in full production, with a screen-printing and riso studio.
photo @wolejkooo
photo @wolejkooo
There's a small showroom at the entrance – you can see all the publications in a comfortable chair, and there's also a nice box of post-launch promotional copies and prints.
Published by Stolen Books, a book by artist Fabio Zimbres/ photo @wolejkooo
We were lucky enough to meet the founder – Luis – who showed us around the whole studio and told us about the origins of Stolen Books, and also showed us the old mimeograph. We spent a good 3 hours there – chatting about printing techniques, politics and why the same book sells brilliantly in China and disastrously in France (answer: nobody knows). A visit is definitely a must for all art book fans!
2. It's a book
Rua do Forno do Tijolo 30A
A lovely little bookshop that focuses mainly on quality children's books.
Here you will find a wide range of well-designed publications that respect the intelligence of young readers. You can also buy beautiful, colourful, minimalist prints for the nursery. By the way, I can recommend a great café in the area – Todas Manas.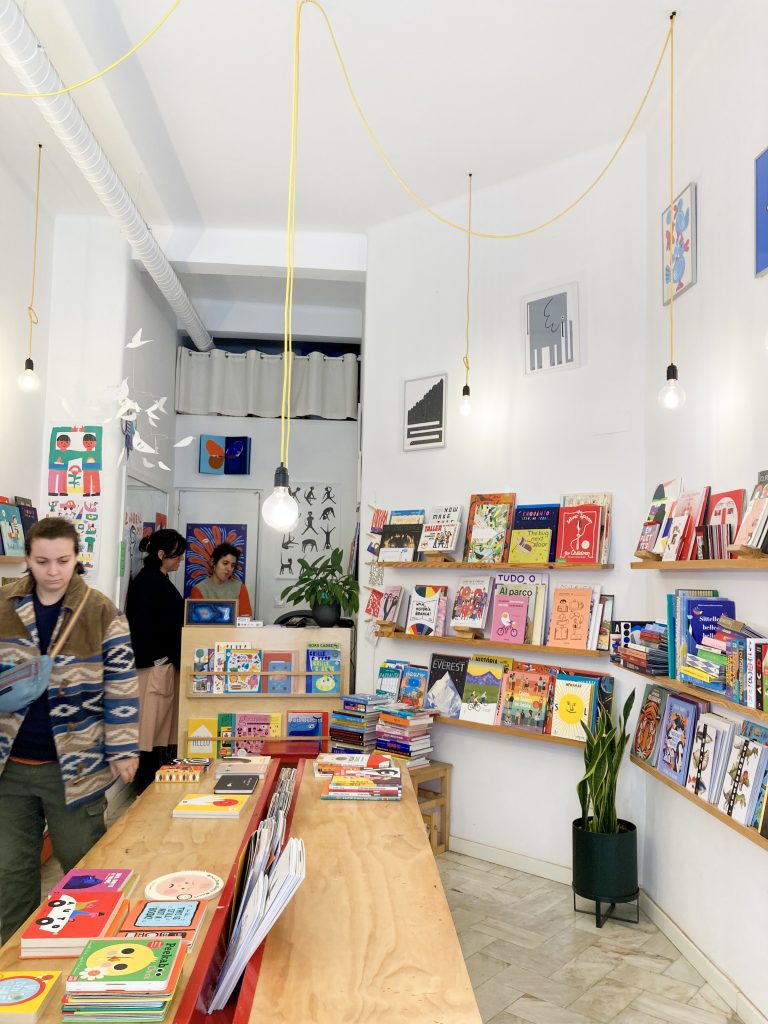 3. MAGO print studio
Rua Cidade de Cardiff 54B
MAGO is a two-person printmaking and illustration studio founded by Marcos and Bina. They are not open on a regular basis, but if you email them in advance, they will be happy to host you and show you their prints.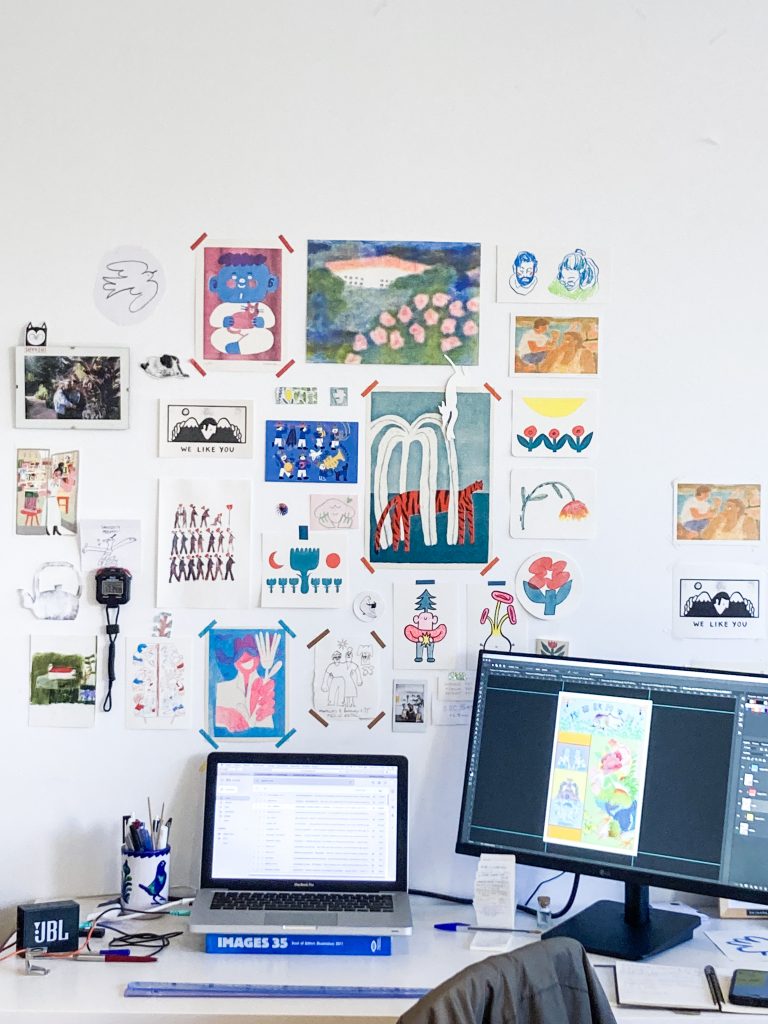 When we visited them, they were in the middle of preparing publications for this weekend's fair. We had a great chat and it turned out that we had a lot in common 🙂 I was looking at an extensive catalogue of over 100 Riso prints, a collaboration between a group of friendly illustrators.
Marcos, 1/2 of the MAGO studio, talks about the collective illustrator project/ photo @wolejkooo
I received some beautiful Riso postcards. MAGO studio is about to celebrate its 3rd birthday! I wish them all the best and encourage you to visit them if you are in Lisbon.
Printers' meeting – Bina, Marcos and Susanna/ photo @wolejkooo
4. Ze Des Bois Gallery
R. da Barroca 59
Ze Des Bois is a cultural centre. There is a bookshop on the first floor, a very cool exhibition space on the second floor and a bar with a terrace that is a real pleasure to sit on.
You have to pay €3 for a ticket to enter the second floor – but then you can probably use it as an entrance fee for two weeks and go there every day. And it's worth it, because it's nice to stay there and there are concerts every few days.
But back to the bookshop – you'll find local zines and prints. All in all, I was surprised to find so much alternative culture in such a place (Ze Des Bois is in a very touristy part of town, full of exclusive boutiques). As well as art books, there is also a section of second-hand books at very reasonable prices. There are a lot of antique shops in town, but they're expensive – but if you're not on a student budget, you can pick up some cool maps from old nature books.
All in all, a strong recommendation for the ZDB! Definitely one of the coolest places to go in Lisbon.
Also noteworthy:
XYZ Books
Rua Ilha do Príncipe 3A porta E
A big player in the Lisbon art book market. XYZ is an independent publisher, bookshop and art gallery. You may be pleased to know that they have a residency programme for printmaking artists.
Under The Cover
Rua Marquês Sá da Bandeira 88B
A designer bookshop with a careful selection of books, art books and magazines.
FICA oficina creativa
Rua de Arroios 154B
A place dedicated to ceramics and printmaking, mainly workshops, but you can also buy prints.
Galeria Malapata
Rua Nova do Almada nº9
It's a place very much focused on illustration, where you'll find a really great selection of work by young Portuguese artists.
Tigre De Papel
Rua de Arroios nº25
A bookshop that is an important place for the local community. Like the ZDB, it has also a section for second-hand books.
Google Map