At the beginning of May, we visited Berlin to take part in one of the most important publishing events in this part of Europe – MISS READ book expo. Finally, we managed to organize the materials, business cards and memories from those couple of days. We bring back the curiosity and excitement that accompanied us then and so: we invite you to read our coverage from our emissary – Natalia Łajszczak.
To all that might not know:  MISS READ Art Book Fair is one of the biggest and coolest books and zine expo in Europe. It was first organized in 2008, this year they celebrate their first decade. There might not have been a cake, but there were around 260 exhibitors and artists from all around the world, showcasing their books, albums, zines, magazines, and posters. The whole thing took place in an institution named Global Culture House (Haus der Kulturen der Welt).
And with that, I will end the expository paragraph and let's cut to the impressions. "Cutting to", "Approaching", "Sneaking" and "Leaping" are all descriptors that are appropriate to what I, an Oficyna representative, was doing at the fair.
Obviously we had our own stall, that I tried to contain, but in reality, I was all over everything. Right after I got my hand on the expos map and looked through the vendors' lists, I immediately marked the ones that I just had to meet. In the end, I had lots of encounters like that, and it would be hard to contain it in one coverage article, so I will only talk about the few.
First in line was Gato Negro – rebellious-political publishing house from Mexico. Their pocket-sized books printed on RISO has been amazing us for a while now. I was hanging around Leon Muñoz Santini, one of the founders of this odd printery and publishing house, and started saying (or mumbling, I got star-struck) that their books are amazing, that I'm a huge fan and I need to have an interview with him for a blog. Leon seemed to be used to this kind of attention, thanked me and even got interested in works of Oficyna. After that it turned out Leon was a bit of a celebrity, hanging around without time for talking, but he did give an interview to MISS READ, which you can see here.
At the fair, we also met our friends from the Outer Space Press, low-cost publishing house from Berlin. This couple of risograph maniacs are probably the ultimate masters of black RISO print. They are amazing at bringing out the details, which is especially visible in their book "67…P", that tells the story of a space probe Rosetta and what it "saw" after 31 months of traveling while powered down.
Photos from the mission gathered by the Outer Space Press was put into an amazing album, in which even paper doesn't work with the laws of gravity (the album is printed on a paper made out of stone).
Among all of those stalls with interesting books and zines, that was pulling me in with both their form and content (Sleek-mag portal even dared to judge the books by their covers, which effects you can find here) I wanted to mention a couple that had a spot not too far away from us. Across the corridor, there they were, selling their zines and photo albums. Him (whose name I can not remember) and her – photographer Annette Frick. Annette, looking like a modest woman at the first glance, turned out to be an amazing person, a documentalist of Berlin underground of the 70s and 80s. Photographic albums, that she was selling, were placed in a punk aesthetic and were filled with dynamic shots from the life of those people – her friends. Protests, funerals, fun and dressing up. All was mixed and gave a sense of amazing intensity.
It might not be a right place for a review, but I'm just going to say that on the first day I spoiled myself by buying one of the albums, and on the very same night – looking through them all with my face all flushed – I decide that I need to buy the other two (in the end I got one as a gift :))
This triptych documentation, followed by an intense smell of powdered xero ink (yes, all of it was printed in black and white on a xero copier, and printed very well with deep blacks) will probably remain my most precious trophy from this year's MISS READ. Along making the acquaintance of Annette Frick.
If anyone wanted to see a short video of how this years MISS READ  looked like, no problem, here you go:
The most interesting thing at festivals, fairs or expos (apart from looking through books) is talking with publishers, authors, and artists. Every studio or small publishing house, when asked, can for hours talk about the history of their publications, print techniques, sharing their tips and printing passion.
And those were the moments for which it was worth trying to run around and split in two between handling our stall and discovering those of others. But we made it, Oficynas prints looked very well, and our (and collaborating authors) posters stole the spotlight.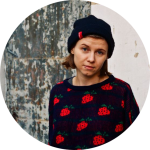 Graphic designer and screen-printer 🙂 Associated with Oficyna Peryferie since 2016, she teaches "Screenprinting for begginers" workshops. Author of the "S is for Screenprinting"zine.