Hallo!
I am very happy to present you with the first in a series of Art Book Store Maps! For obvious reasons we started with Berlin.

Some places I've known for a long time, others were discovered through online research and immediately added to my TO DO LIST. I got a lot of great recommendations during the Instagram Q&A. Thank you so much for all the answers!

Personally, I like Berlin best in spring and when I go there I will definitely enrich this article with my impressions. At the end of the post you will find a Google map to help you navigate from zine to zine.
Our TOP 6 (should have been TOP 5, but it just wasn't possible)
1. Colorama Print
Drontheimer Str. 6, 13359
RISO studio and independent publishing house. They specialise in illustration and print comics, zines and books. They regularly organise internships and scholarships, with a commitment to social equality. The founder of Colorama is the great Johanna Maierski, who we did a cool interview with a few years ago [ Click ]
foto: @oficynaperyferie
2. Schikkimikki_zinelibrary
Stuttgarter Str. 60, 12059
A small, independent place focused only on zines. And we love them for that! From time to time they organise the Hungry Eyes Zinefest.

PLEASE NOTE: you need to book an appointment in advance via DM on Instagram!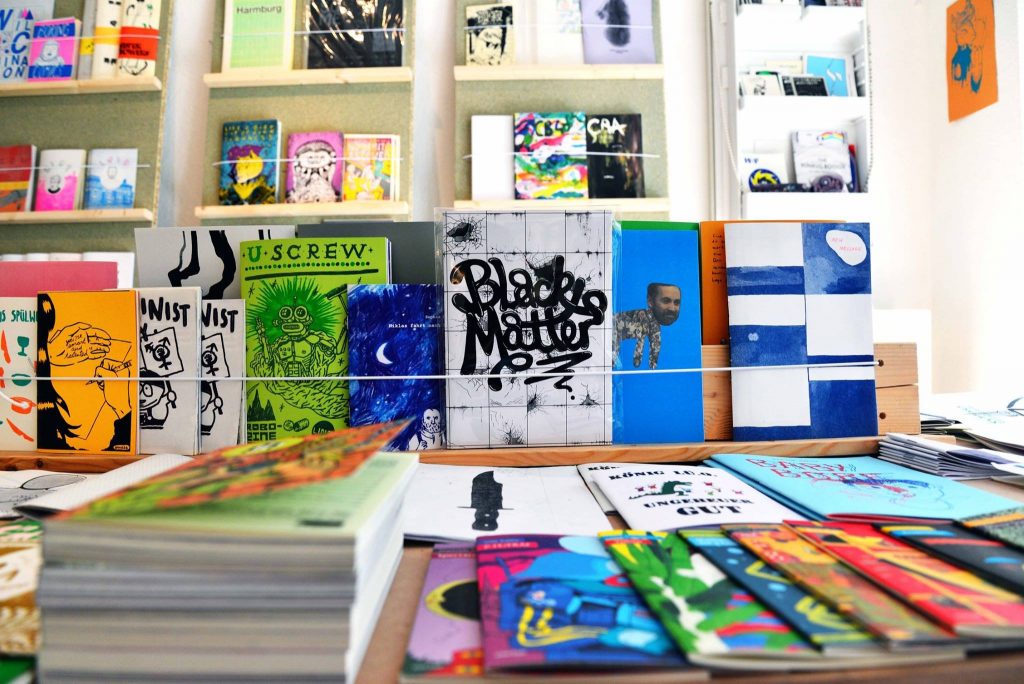 foto: @schikkimikki_zinelibrary
3. Zabriskie – bookstore for culture and nature
Reichenberger Str. 150, 10999
This place made a huge impression on me and I seriously can't wait to visit there in person (I'm afraid I'll spend all my money then). You will find publications related to eco-criticism and natural history. There are books, zines, prints, as well as cassettes and vinyl.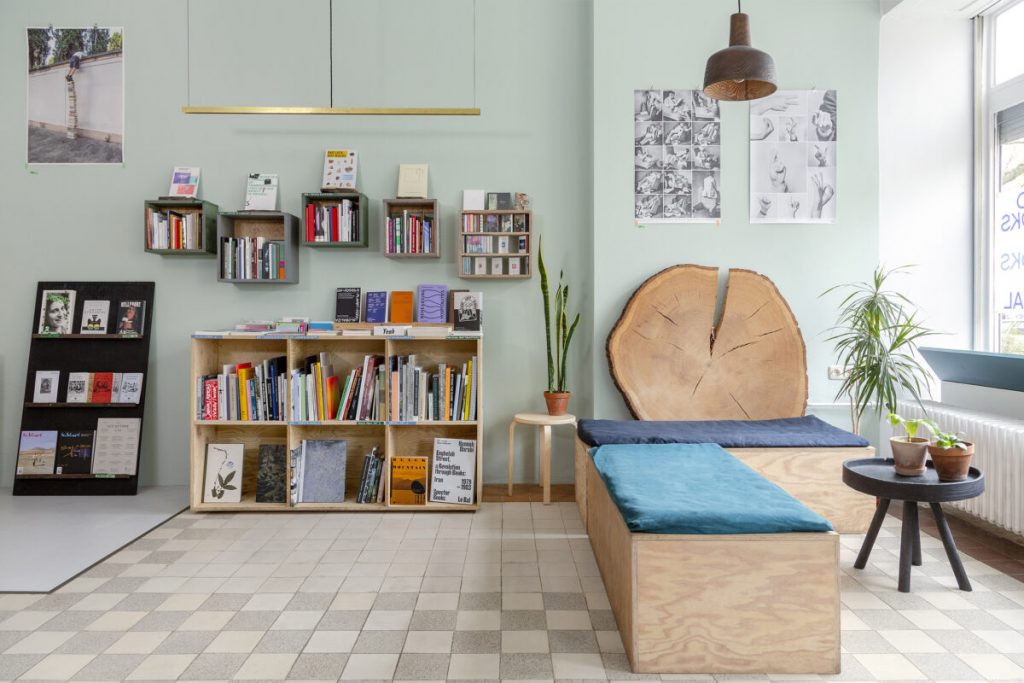 foto: @zabriskiebuchladen
4. a.p.
Lindower Str. 20, 13347
A very cool place in the Wedding district, it captured me with how the space is designed and the big, comfortable sofas.
foto: @a.p.berlin
foto: @a.p.berlin
5. einBuch.haus
Florastraße 61, 13187
A place specialising in art books. They hold regular events/exhibitions dedicated to specific publications. I love the idea of creating a gallery space around book publications!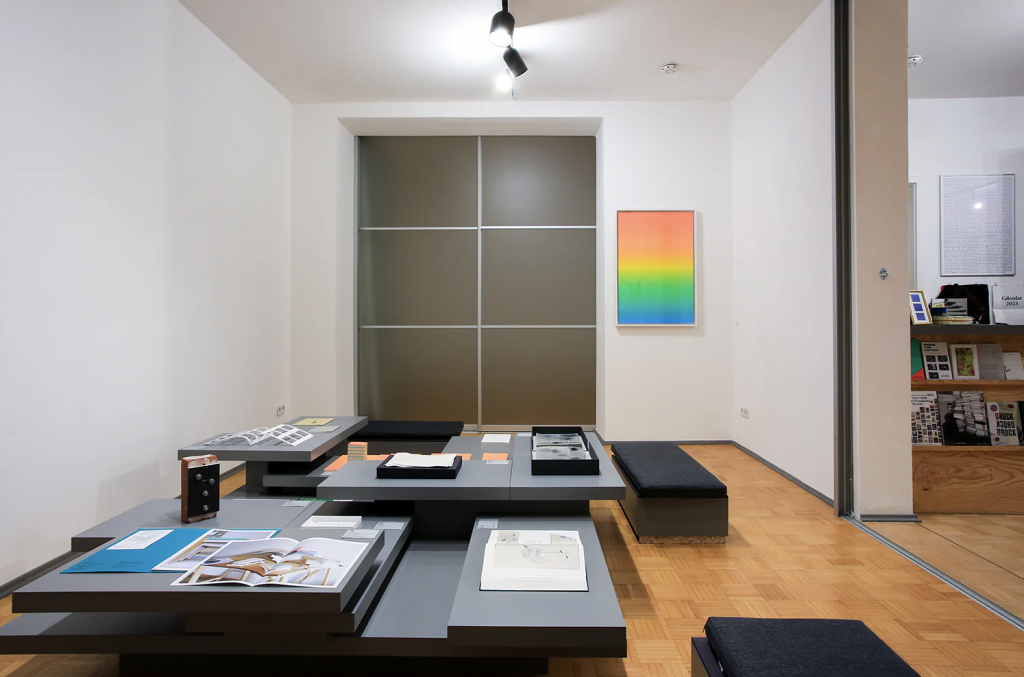 foto: @einbuch.haus
6. She said
Kottbusser Damm 79, 10967
An iconic bookshop where you will find an impressive selection of feminist and queer literature. In addition, it stands out for its very nice, modern interior design.
foto: @shesaidbooks
Also noteworthy:
Buchhandlung Walther König
Invalidenstraße 50-51, 10557
A well-known and well-liked bookshop on Museum Island, a classic you might say. You won't find DIY prints here, but it qualified for the list because of its huge selection of art books.
Lady liberty library
Veteranenstrasse 21, 10119
Place associated with the publishing house Lady Liberty Press, founded by artist Nina Prader. International reading room for zines, also a centre for local activities. You have to make an appointment in advance via DM on messenger!
Renate comics / Comicbibliothek Renate
Tucholskystraße 32, 10117
A shop and library focusing on comics, but you will also find a selection of zines.
Do you read me?
Auguststrasse 28 10117
Here you will find a wide selection of magazines and journals from all over the world.
Pro qm
Almstadtstraße 48, 10119
A must-see for those interested in architecture!
Neurotitan Shop & Gallery
Rosenthaler Str. 39, 10178
A bookshop, but above all a gallery, showing works by artists working in illustration, comics and street art.
Bibliothek am Luisenbad
Badstraße 39, 13357
Town library of the Wedding district, with a public reading room where you will find a large selection of graphic novels and comics.
Ocelot, not just another bookstore
Brunnenstraße 181, 10119
Bildband Berlin
Immanuelkirchstraße 33, 10405
Barbara Wien
Schöneberger Ufer 65, 10785
Modern graphics
Oranienstraße 22, 10999
Sheakspeare and Sons
Warschauer Str. 74, 10243
Google map